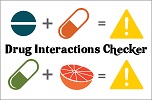 de eenvoudigste manier om uw medicatie te controleren.
type medicatie naam of ziekte in de searchbox om uw dossier volledig te maken

Medication

1

?
Symptom/Diseases
1

Geen ziekte
Welcome to Online Medication Profile Analyser OMPA
Uw dossier bij OMPA
Posted on September 1st, 2009 : engineered by Gaverapotheek apr Paul Larmuseau
Na het beantwoorden van duizenden vragen via mijn website, dacht ik bij mijzelf om dit werk eens te automatiseren...
Na een weekje zoeken, databanken bij elkaar schrapen, een beetje css, en Ajax leren, ben ik trots om dit tool te tonen.
Use the search box, to look up your medications and your symptoms.
Historieken worden bijgehouden op uw ip-adres, of op uw login naam. Je kunt gewoon uw eID kaart gebruiken om uzelf te identificeren.