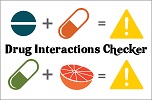 de eenvoudigste manier om uw medicatie te controleren.

Medication

1

?
Symptom/Diseases
1

Geen ziekte
Welcome to Online Medication Profile Analyser OMPA
Vecht de medicatie in uw lichaam ?
Posted on September 1st, 2009 : engineered by Gaverapotheek apr Paul Larmuseau
Interacties tussen geneesmiddelen die je samen gebruikt versterkt of verzwakt hun werking
Interacties worden in twee richtingen gecontroleerd en staan zo dubbel. Graad 1 interacties moet je ernstig nemen. Graad 2, is belangrijk. Graad 3 interacties geeft dikwijls geen problemen.
CYP450 interacties zijn altijd goed gedocumenteerd door Flockhart en zijn meestal te vinden na moeizame analyse van deze tabel. Als een - voor staat wil dit zeggen, dat het enzyme minder werkt, en dus het geneesmiddel meer werkt
Bespreek deze interacties met uw arts en apotheker.
Interactions in descending degree of severity

medication_1_interacts

degreewhith

medication_2
No Results
---
Enzymatic Liver interactions (-3A4) increasing or decreasing(3A4-) medicine effect

molecule1

cypenzyme

molecule2
No Results
---