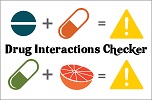 de eenvoudigste manier om uw medicatie te controleren.

Medication

1

hepatitis a-immunoglobuline
2

serenoa repens
Symptom/Diseases
Welcome to Online Medication Profile Analyser OMPA
Geneesmiddelen informatie
Posted on September 1st, 2009 : engineered by Gaverapotheek apr Paul Larmuseau
Het behandelingsschema hangt samen met de ziekte leeftijd, voor of na eten, en timing
Maximum informatie, zegt wat je maximaal gebruikt voor die ziekte.
Kies in de lijst een behandeling om te controleren of deze geneesmiddelen geen interactie of nevenwerking vertonen voor uw dossier
Bespreek uw rooster met uw arts en apotheker.